How to Cut Video Using Any DVD/Video Converter Pro.
Video clipping is one of the most useful features in Any DVD Converter Pro. and Any Video Converter Pro. With either ADC or AVC, you are able to cut desired video frames from DVD movies, mpeg files, avi files, wmv files, mpg files, divx files, mp4 files, mkv files, mts files, and more!
Video Clipping edits the beginning and ending points (the in and out points) of a video. For example, you can adjust the trim of a video clip to begin playback 30 seconds into the full clip, removing unwanted frames.
To clip a video in Any DVD Converter Professional, simply click on a video file in the left pane, then click this scissors tool

under the preview window to open below Video Clipping window to start.
Howto
How to cut video with ADC/AVC?
1. Click Play button to start playing the video clip.
2. Click the Start Point and End Point to trim desired section.
3. Click New Segment button, and repeat step 2 to trim another segment.
4. Click on the trimmed segment, and click Play Segment button to play selected segment.
5. Click the Move Up and Move Down button to arrange the segment order.
6. Click Apply to save the changes.
7. Click OK to return to the main window.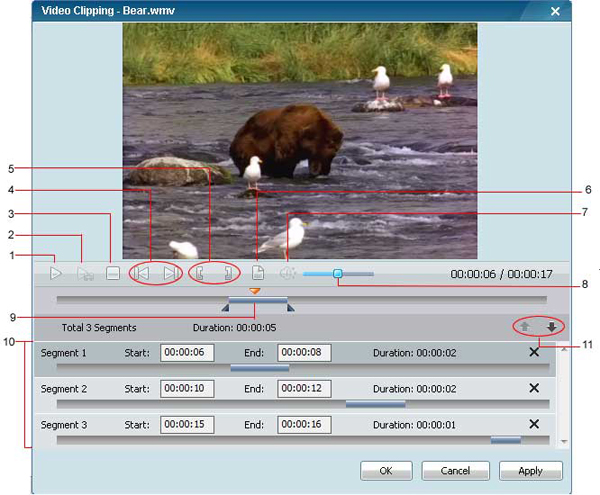 1 - Play/Pause: used to playback and pause video file.
2 - Play/Pause Segment: used to playback and pause selected segment.
3 - Stop: used to stop playing video file.
4 - Previous/Next Mark: allows you to conveniently move the playhead to previous or next mark point.
5 - Start /Stop Point: used to start and stop trimming video clip.
6 - New Segment: allows you to trim more segments.
7 - Mute: used to turn off the sound for a video currently playing.
8 - Volume Control: used to control the audio volume level.
9 - Scrubber Bar: This special scroll bar lets you move to anywhere in either a segment, or the whole movie.
10 - Segments Pane: clipped video segments are placed here.
11 - Move Up/Down: used to move clipped segment up and down.